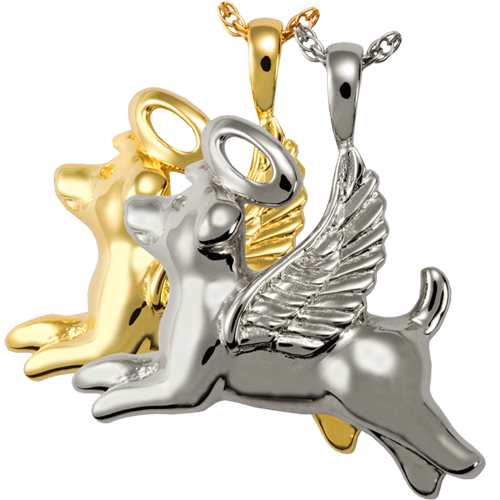 Perhaps one of the most beautiful ways to remember a passed pet, our range of pet memorial jewellery will inspire the sweetest of memories. Available in sterling silver, 14 karat gold plating, solid 14 karat yellow and white gold and platinum, each pendant has been designed to hold a small portion of your pet's ashes.
This pendant is fashioned into the shape of a gorgeous dog with angel wings and a halo – a reminder that your pet will always be there with you in spirit. The pendant can hold ashes or a lock of your pet's fur, and is easily filled by us here at Pets in Peace through the secure threaded opening. It comes beautifully presented, and can be permanently sealed if desired.
Pricing (including satin cord):
Sterling Silver: $195
14 Karat Gold Plated: $300
14 Karat Gold: Available upon application
14 Karat White Gold: Available upon application
Platinum: Available upon application

Sizing:
One Size: 2.5cm.