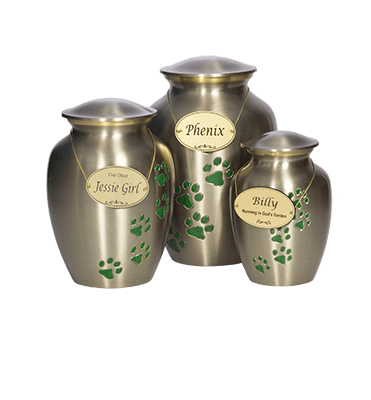 Urn pricing: Urn + Premium cremation service = Total cost
Cast in high-quality brass and brushed with a gleaming silver-tone finish, the Brass Silver Urn is also accented with classy jade pawprints to add a splash of colour to your pet's memorial. A tight screw-top lid ensures that your little one's remains are kept safe, while the (optional) plaque adornment adds a special finishing touch.
Also available with gold pawprint accents.
Sizing:
Small (6 inch/15cm): $69 + $329 = $398.00
Medium (7 inch/18cm): $79 + $329 = $408.00
Large (8 inch/20cm): $99 + $329 = $428.00