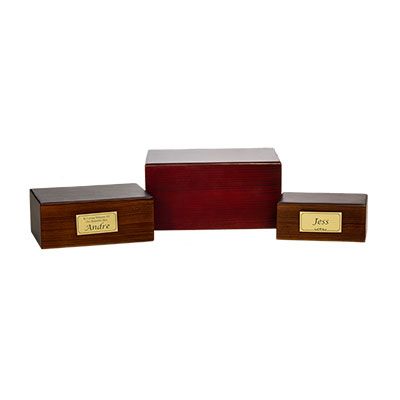 Memorial pricing: Memorial + Premium cremation service = Total cost
For a modern timber box for use in a memorial, look no further than our lovely Memorial Boxes. These are the memorial boxes that are included in our premium cremation service, but they may also be purchased separately if you wish. Crafted from wood with a deep rosewood hue and a smooth veneer finish, these memorial boxes look wonderful when presented with a plaque bearing your pet's name and a loving message. Each box is sealed underneath the base, ensuring your pet's ashes are stored safely.
Also available in Indian timber.
Sizing:
Small (20cm x 19cm x 6cm): $329.00
Medium (25cm x 16cm x 8cm): $329 + $10 = $339.00
Large: $329 + $25 = $354.00