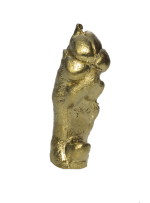 At Pets In Peace, we pride ourselves on our casting service and the beautiful memories that it helps to produce. With your permission, a mould is taken of your pet's paw, which is then cast in gold or silver – similar to the way in which parents have their baby's hands and feet cast and framed at birth.
A casting is bound to become a treasured, endless memory for you and your family long after your special friend has passed. This Single Paw cast is a free standing, three-dimensional mould of your pet's paw, allowing you to be able to hold their paw when needed or to be displayed at home in any manner you choose.
Paws can be cast in gold or silver. Please call and talk to one of our Casting Liaison Officers to make arrangements for your casting memorial.
Pricing:
Single Cast Paw starts from $145.00
Double Cast Paws start from $195.00
Three Cast Paws starts from $245.00
Four Cast Paws start from $295.00