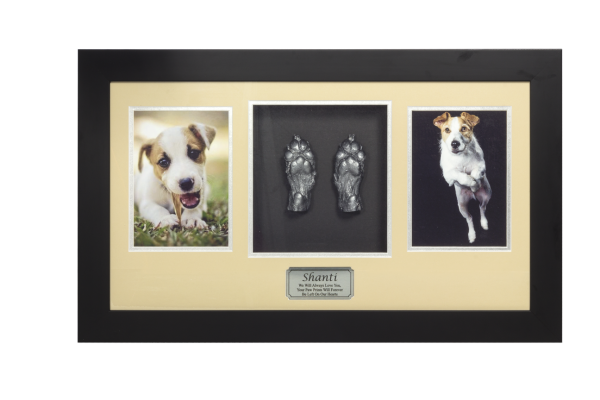 At Pets In Peace, we pride ourselves on our casting service and the beautiful memories that it helps to produce. With your permission, a mould is taken of your pet's paw, which is then cast in gold, silver or bronze-toned metal – similar to the way in which parents have their baby's hands and feet cast and framed at birth.
A casting is bound to become a treasured, endless memory for you and your family long after your special friend has passed. A framed cast is even more special, as it combines your pet's paw casting with other commemorative items such as a photograph, lock of fur, name plaque and just about any other addition you desire. The Twin option is the largest casting frame we have on offer.
Various colour options are available. Please call and talk to one of our Casting Liaison Officers to make arrangements for your casting memorial.
Pricing:
A Twin Casting Frame (standard) starts from $395.00. Additional costs may apply depending on your decisions for the order.