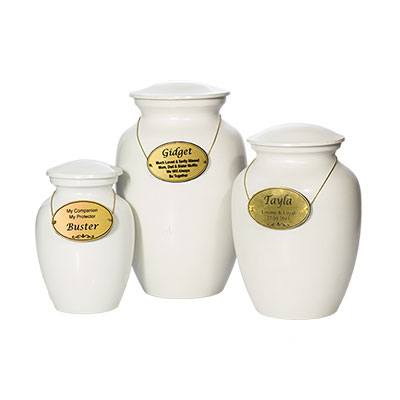 Urn pricing: Urn + Premium cremation service = Total cost
Our White Cast Metal Urns are one of many options that can be included in your pet's individual cremation service as a base option. All of Pets In Peace's Cast Metal Urns are fashioned from solid metal with a glossy, porcelain-look finish exterior, giving them a solid weight and quality. Each pure white urn includes a tight screw-top lid to keep its contents safe and sound. Paired with an (optional) oval plaque, these urns make for a wonderful, traditional display piece to commemorate your little one.
Also available in pink, black or jade for a small additional cost.
Sizing:
Small (6 inch/15cm): $329 = $329.00
Medium (7 inch/18cm): $10 + $329 = $339.00
Large (8 inch/20cm): $25 + $329 = $354.00