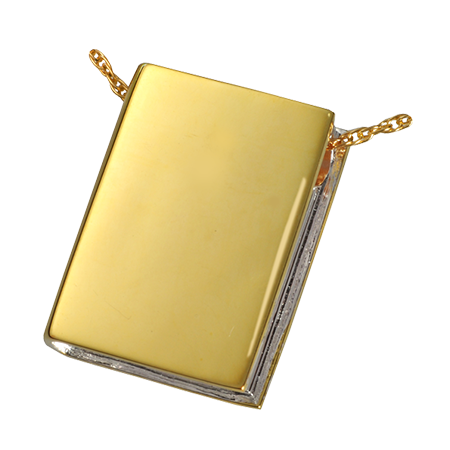 Perhaps one of the most beautiful ways to remember a passed pet, our range of pet memorial jewellery will inspire the sweetest of memories. Available in sterling silver, 14 karat gold plating, solid 14 karat yellow and white gold and platinum, each pendant has been designed to hold a small portion of your pet's ashes.
The two-tone Your Story Pendant is crafted from sterling silver and 14-karat gold plating, and has been specially designed to hold a tiny amount of ashes, soil from a favorite place, a lock of fur or dried flowers from a ceremony. The book represents the next chapter of life, or the retelling of a story. The pendant is filled by us here at Pets in Peace through the secure opening. It comes beautifully presented, and can be permanently sealed if desired. Perfect for engraving with your pet's name.
Pricing (including satin cord):
14 Karat Gold Plated: $300
Sizing:
One Size: 2.4cm x 2.8cm.